Mexican Heritage - Aussie Corn

100% non-GMO Aussie Corn
THE BEST TACOS START WITH THE BEST TORTILLAS

Get yours from Mexico City Foods
Mexican Heritage - Aussie Corn
100% non-GMO Aussie Corn
THE BEST TACOS START WITH THE BEST TORTILLAS
Get yours from Mexico City Foods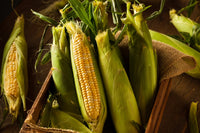 Australian Corn and Mexican Knowhow
Using 100% non-GMO Australian corn we create Australia's first and best traditional nixtamal corn tortillas and chips.
Retail and Wholesale
We sell our authentic nixtamal tortillas and corn chips to restaurants, distributors and the public.
We also carry a wide range of chillies, tomatillos, salsas and all the other products you need to cook authentic Mexican meals.
Contact us to discuss your needs, come and see us at our factory outlet, or jump over to our online store and order now.
Watch Our Authentic Tortillas Being Made
We make our tortillas and corn chips using the authentic nixtamal method followed from the ancient Aztecs through to modern day Mexico. Check out this video to see the process in action.
Location
Opening Hours
Unit 2/ 63a Boundary Road, Mortdale
Mon-Thur 9:00 to 3:30
Fri 9:00-12:00